The expansive Zambezi River Hippo Camp exhibit at the Memphis Zoo covers 4 acres in a central part of the zoo's footprint. In keeping with the zoo's cultural emersion standards, the exhibit is modeled after an African fishing village along the Zambezi River and offers an interactive and educational experience for visitors. A2H served as the lead engineer and local consultant in collaboration with renowned zoological design firm Torre Design Consortium who led the project's master planning and architectural design.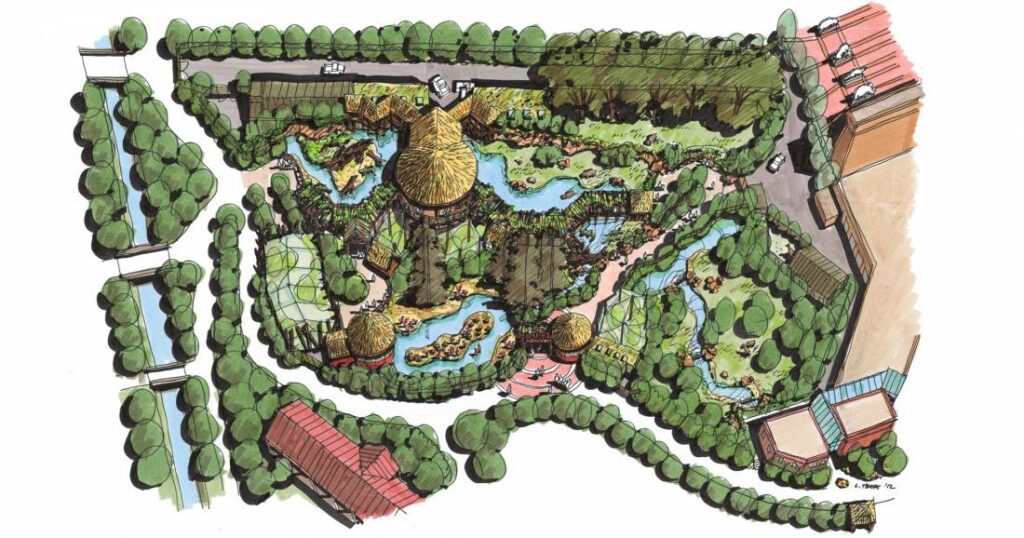 To showcase the exhibit, extensive design coordination and planning was necessary to ensure the result was a high-functioning exhibit. All utilities – water lines, sewer piping, electricity, mechanical, and structure were integrated underground or within the architecture and landscaping. This allowed functionality and easy access for maintenance while not detracting from the immersive experience. Building elements were intentionally designed to resemble natural materials native to the area, allowing the structures to blend into the natural environment.
Winding paths guide visitors through the exhibit; leading them from ground level to below the waterline, to elevated vantage points in the rondavel huts, offering panoramic views of the "village" below. The exhibit features land spaces and houses more than 500,000 gallons of water habitats, featuring native species such as hippos, flamingos, Nile crocodiles, patas monkeys, and okapi. Attention to natural details and functional elements ensure the animals have large spaces reminiscent of their natural habitats, allowing them to showcase their natural abilities. The hippo and crocodile exhibits feature viewing areas both above and below grade, allowing visitors to appreciate the behavior, size, and strength of the animals from multiple vantage points.
Various sustainable design considerations were made. A2H designed a filtering system that reuses water, minimizing make-up and wastewater. Reclaimed wood was used throughout the exhibit, including the rondavel huts and the mantel for the fireplace. The exhibit site previously housed a duck pond. Multiple Cyprus trees were preserved for the new exhibit.